IT Support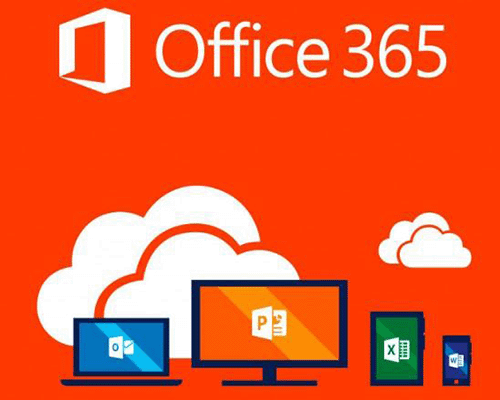 Downloads
Microsoft Office 365 for Business support in Norfolk, Suffolk & Essex
Office 365 Solutions allow your business to work anywhere
Microsoft 365 (formerly Office 365) is a bundle of the latest Microsoft communication and collaboration tools to enable you and your business to work from anywhere. Whether you need business-grade email with massive 50GB malboxes or the latest Office software (Word, Excel, Powerpoint, OneNote, Publisher, Teams), Microsoft Office 365 is the most cost-effective solution.
As a Microsoft Cloud Solution Provider IT-C Support Soltuions are able to offer Microsoft 365 support and licensing, security management and consulting services to businesses in Norfolk, Suffolk, Essex and across the UK.
With Microsoft Office 365, everything can be done online, and shared with anyone, using any of your businesses devices.
Depending on the package chosen, 365 also offers a range of online business productivity services, including:
Hosted exchange email – cloud-based email for access anywhere
Teamwork and collaboration tools – connect, share and work together across your company, through a range of powerful platforms SharePoint, Microsoft Teams and Microsoft Planner
File storage and sharing - 1TB space per user of OneDrive for Business cloud storage
Office Online – access to online versions of Word, Excel, PowerPoint, Outlook and OneNote, available from any browser
Enterprise Apps – installable versions of all your favourite office applications of Word, Excel, PowerPoint, Outlook, OneNote and more
Reporting tools – access to Sway, the easy way to create nice, visually appealing newsletters, reports and documents
Put simply, Microsoft 365 is a complete and scalable office software solution for businesses of all sizes, and in every industry.
Why Choose Microsoft 365?
Office 365 provides benefits for all businesses over standalone, single purchase software, in terms of:
Flexibility
Office 365 means you and your team can work from anywhere. As long as you have access to the internet, you can view, share, edit and create documents across the entire Microsoft Office platform. For businesses with remote workers, team members who travel a lot, or several offices – it keeps everyone connected at all times.
Team-working
Forget multiple versions of the same document or spreadsheet floating around – Office 365 enables real-time collaboration and team-working from the same files. That means fewer files floating around, less confusion and less duplicated effort.
Always up to date
With Microsoft Office 365, applications update automatically – your business will benefit from all the latest features and security updates as soon as they happen. It means as the Office platform evolves, you won't have to keep investing to benefit from the upgrades. It also means enhanced security, with patches to protect your business from vulnerabilities as soon as they are implemented.
Security
Microsoft Office 365 comes with a wide range of advanced security features designed to protect your data, including encrypted email, data loss prevention, advanced theft analytics and mobile device management. In essence, it provides you with increased visibility and control over vital business data to keep your business safe.
Scalability
The easy, mix and match subscription model means you can adapt the package to meet the needs of your organisation. The modular system means you don't have to shell out for the full package if you don't need it, and different team members can have access to the applications they need.
You can switch plans as and when you need to, to match the needs of your organisation. The subscription model also works to benefit cash-flow – providing you with a predictable monthly spend on your office productivity software.
Microsoft 365 Backup Services
Generally people believe that you don't need to backup your Office 365 data, which is partially true. Microsoft 365 comes with some built-in mechanisms to protect your data and offers limited set of abilities for restoring it. But what if you want more? More restore options, or more security?
How does Microsoft protect your data?
It is important to know what your own responsibilities are when it comes to your Microsoft Office 365 Data. Microsoft is a cloud provider and its main goal, when it comes to data protection, is to ensure that the services and your data are always available. They are not a backup provider.
Microsoft 365 Shared Responsibility Model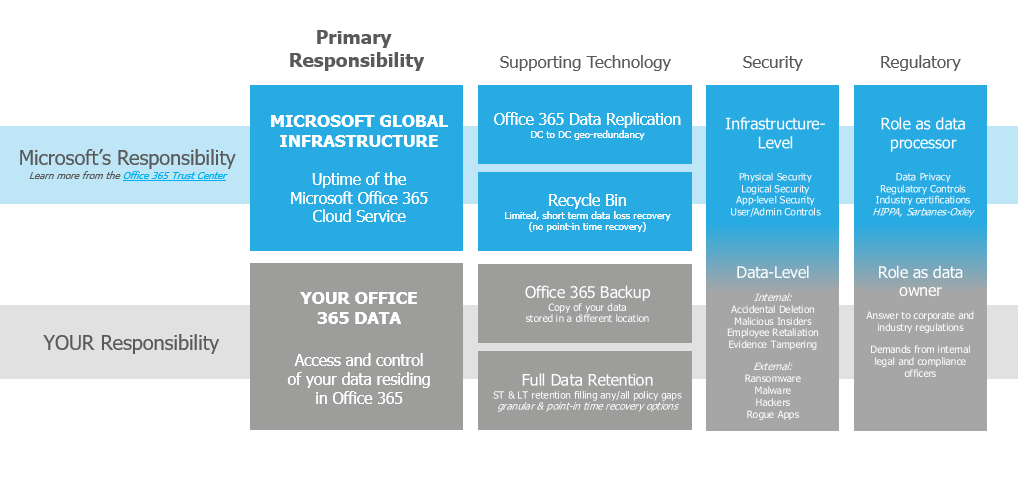 Microsoft offers a lot of tools to help keep your data safe, but it's up to you to use them and configure them correctly. If you don't use retention policies, DLP policies, or MFA, for example, then it's your own responsibility when your data is compromised or lost. That is where IT-C can assist you in ensuring your systems are configured correctly, are secure and most importantly that your data backedup and safe.
When choosing a backup solution, it is important to check what is actually backed-up. Most solutions can make a backup of Exchange, SharePoint, and OneDrive. But a lot of data these days can also be found in Teams. So it is important to utilise a backup solutions which backs-up all your data.
At IT-C we can provide easy-to-use and secure cloud-to-cloud backup services putting your Microsoft data under your own control. Our IT-C Cloud backup solution ensures compliance, quick access to backup Microsoft 365 data and greatly improved RTO (recovery time objective).
Managed Services for Office 365
At IT-C, we offer fully managed services for Microsoft Office 365 – helping organisations to get the most out of the platform and their subscriptions.
From planning and helping your business to migrate to the cloud, to monitoring and managing systems, adapting packages and tackling any technical challenges, we're here to make things as easy and stress-free as possible. Always there when you need us, we'll look after you - ensuring everything always works as it should to help boost productivity and drive value for your business.
As a Microsoft Cloud Solution Provider, we have a comprehensive understanding of how the platform works and will ensure that you benefit from the right package to suit your business requirements, at the best possible price.
Give our cloud experts a call today on 01493 886180 or simply fill out our Contact Us form to start a conversation about your requirements.